I didn't buy a lot of maternity clothes when I was pregnant with Chad.   I bought a couple of things like belly bands for when my jeans got too small to button up, maternity jeans, 3 tops, and 2 dresses, then I borrowed everything else.  I had a hard time dressing my ever-changing body and was frequently frustrated with my lack of options when it came to maternity clothes to purchase. Not only that, our financial situation was different when I was pregnant with Chad than it is now, so I tried to buy as little as possible. Fast forward to this pregnancy.  Not only has my style and taste evolved over the past 2 years, but I've tried my best to really embrace my bump and to try to dress the way I would want to independent of me being pregnant.
The 3 tops that I bought when I was pregnant with Chad were from PinkBlush Maternity.  When it came time to add a few new pieces to my wardrobe this time around, they were the ones that I turned to. I really wanted to find pieces that fit my current personal style & still made me feel like me.  They have the most amazing selection of maternity friendly clothing! Not only that, but they sell maternity & non maternity clothing in a wide variety of sizes & styles.  There's something for everyone there.  I snagged a few delivery & nursing robes from them as well.  I didn't have one when I was pregnant or nursing Chad, and I really wish I did! I wear them when I get ready in the mornings before I get dressed, and I'm excited to wear them in the hospital & when we come home and I get the hang of nursing again.
These robes come in a variety of colors…I want them all!!
This pregnancy I've been all about cardigans & kimonos!  Maternity clothes can be an investment, which is why I love cardigans or kimonos because they can easily change up any outfit and can be worn post pregnancy.  They're extremely versatile, and change up my ever repeated "solid tee & maternity jeans " look.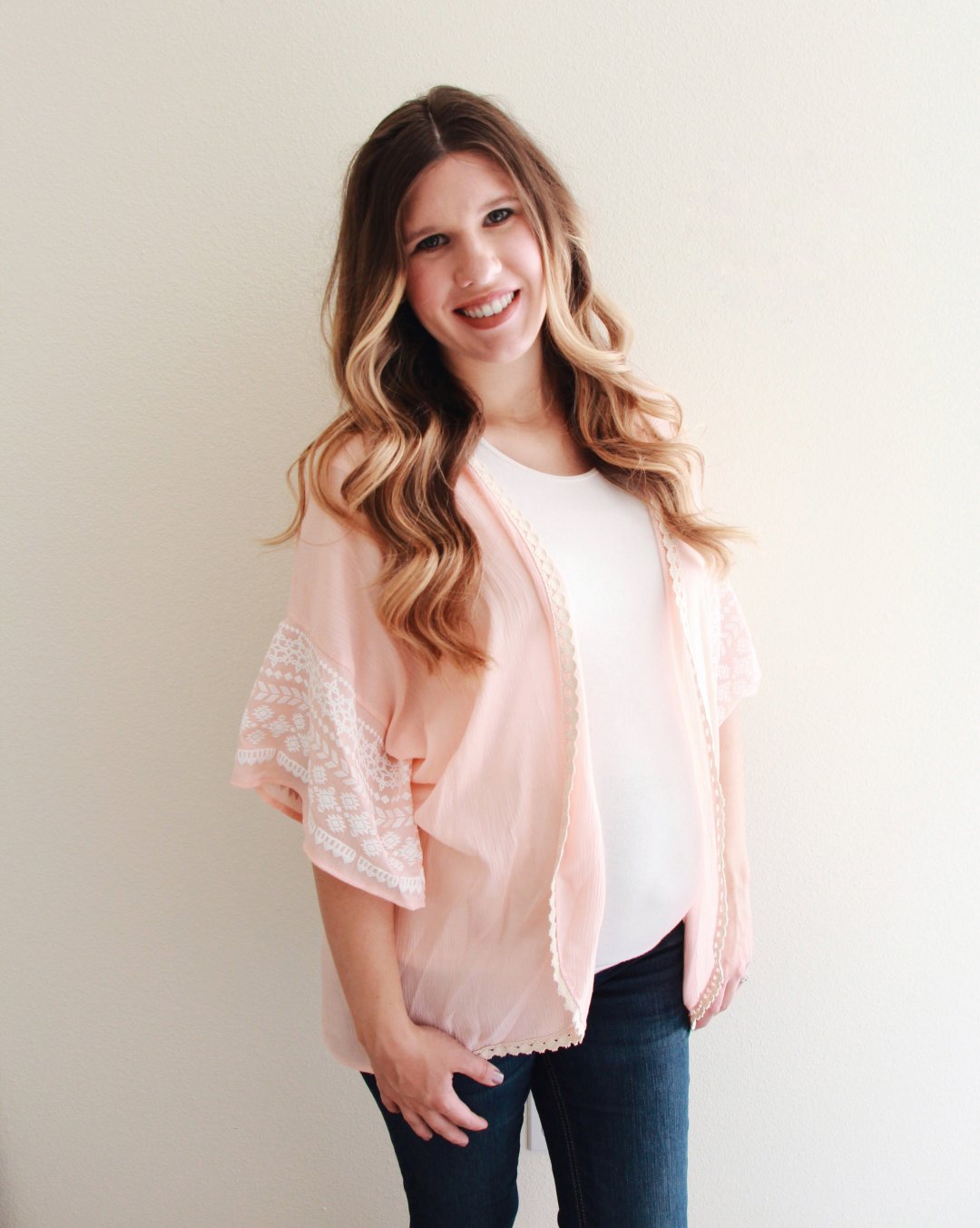 I'm so excited that I've been able to be more myself this pregnancy and continue to express myself through fashion and clothing, independent of the fact that my body is ever-changing!
Thanks to PinkBlush Maternity for sponsoring this post!